Commemorate the 80th Anniversary of D-Day in this Exclusive Concert Series in New Orleans throughout 2024
There is a strong connection between New Orleans and D-Day that can be felt and seen in the city. Many American boats that landed on the beaches of Normandy (known as Higgins Boats) were manufactured in New Orleans. The National WWII Museum, also located in New Orleans, is a state-of-the-art museum dedicated to the history and remembrance of those who fought valiantly in World War II.
The D-Day 80th Commemoration Concert Series includes destinations and musical experiences that remind participants of Franco-American ties and long friendships that date back to the American Revolution in 1776 . Influences from Spain, France, and West Africa are embedded in the music, cuisine, and style of New Orleans. These performance tours are supported by local government offices, community organizations, tourist boards, and the like. Such affiliations offer a more memorable musical, cultural and educational experience for recommended ensembles (both instrumental and vocal) to pay musical tribute to America's Greatest Generation.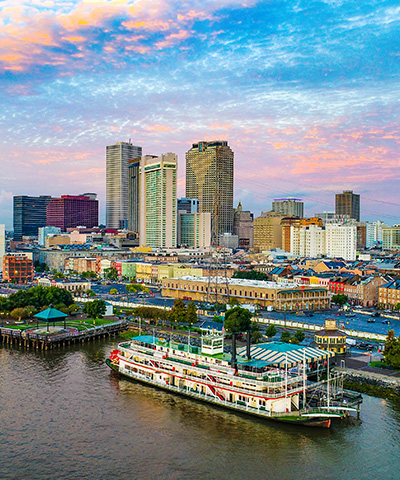 Afternoon arrival in New Orleans
Meet your Tour Manager who will be with you for your entire stay
Enjoy a comprehensive guided tour of New Orleans including the French Quarter, Frenchman Street, Jackson Square with its St. Louis Cathedral, Royal Street Promenade
Check-in to the hotel
Dinner at a local restaurant
Return to the hotel for overnight
Breakfast at the hotel
Depart New Orleans and travel by motorcoach to Cajun country and the cypress swamps that surround the city
Board a comfortable, sightseeing boat to explore the swamp. As your knowledgeable guide leads you down the Bayou on our swampland adventure, marvel at the swamp's natural beauty
See alligators, egrets and other abundant wildlife as we'll explore Louisiana's wilderness paradise
Lunch, on own
Visit and tour the National World War II Museum and view the Beyond All Boundaries film presentation
Performance or clinic as part of the D-Day 80th Commemoration Concert Series in New Orleans
Dinner included at a local restaurant
Enjoy a guided French Quarter Ghost Tour
Return to your hotel for overnight
Breakfast at the hotel
Time at leisure to enjoy the atmosphere of New Orleans where you can find street performers, walk the beautiful City Park, or walk around one of the historic cemeteries with its above ground burial system
Lunch, on own
Performance as part of the D-Day 80th Commemoration Concert Series in New Orleans
Evening dinner at a local restaurant
Return to the hotel for overnight
Breakfast at the hotel, followed by check-out
Morning visit to Mardi Gras World
Lunch, on own
Afternoon departure for home
D-Day 80th Commemoration Concert Series
CONTACT US FOR MORE INFORMATION